Abs Stimulator Rechargeable: Updated controller with 200mAh built

Strengthened Abs Trainer: The abdominal toning belt is designed to fit around the natural curves of your waist and abdomen.

Scientific Settings: 6 programmes provide different impulse frequencies and impulse modes for different body parts.

No Complex Operation: Just apply the abs stimulator to your abdomen, waist, arms, shoulders, back, thighs, calves or buttocks. Then turn it on. It will automatically work for you for 12 minutes.

Pocket-Size Design: The abs trainer are collapsible.You can carry it around and use it when doing housework, work, watching TV, surfing the Internet, etc. Never miss a chance to get your desired shape!
Product Description
iThrough is committed to develop, design and produce outdoor equipment suitable for everyone.
In 2008,our founder established the "iThrough" Sport club,he thought the sports products now can't meet the people's need,so he & his team began explore to improve outdoor life by innovation sport products.
In 2010,the "iThrough" brand & company were established.With the mature understanding of the equipment,iThrough quickly established its own position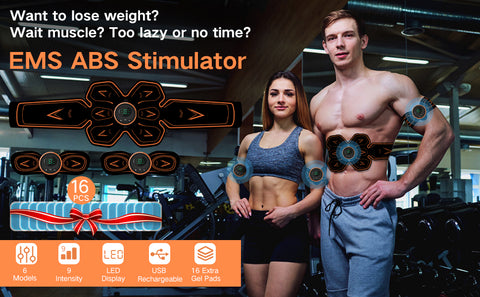 iThrough Muscle Toner Abs Stimulator for Men &Women
Most modern people have limited exercise time, we specially designed this device to bring a quick and effective exercise method. You can use it when working, watching, shopping, surfing/doing housework and get desired body figure easily.
A new mothod of muscle exercises. Office, homa and gym. Leave your muscles compact and durable binding.