| | |
| --- | --- |
| Size | Dusky |
| Brand | IThrough |
| Closure Type | Hook and Loop |
---
About this item
Back Brace Posture Corrector:Helps improve your sitting and standing posture, relief soreness and pain in back, neck and shoulders caused by sitting for long, give you more confidence with an upright, chest out posture.

Back Braces For Posture Correction: wraps around your back and shoulder, pulls your muscles and spine back to original alignment to fix your posture. The 2 removable metal strips on the back make the support more stable.

Comfortable to Wear: Made with lightweight breathable materials to deliver comfortable wearing experience. Keep you cool while promote your posture. The soft cushion shoulder pads prevent the straps from digging into your skin.

Easy to Wear: 1. Put on the posture corrector like you would a backpack. 2. Fasten the waist band to a comfortable tightness. 3. Pull the elastic back straps and attach the Velcro to the waist belt. Then feel the difference.

Upper Back Brace: The shoulder straighter is adjustable to fit men and women who has a waist circumference between 35-43''. Wear it at the office, at home or just on a walk to improve your posture whenever your want.
Specifications for this item
Product Description
Back Brace Posture Corrector, iThrough Back Braces For Posture Correcti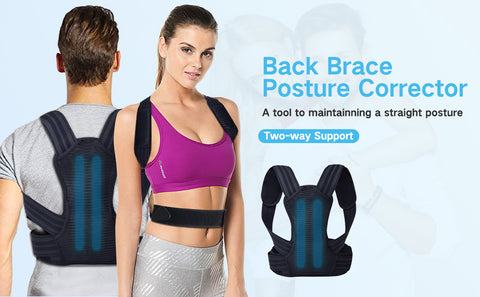 All Too Often We Neglect The Little Things That Can Make A Substantial Difference In Our Lives. Posture Is One Of Them.
iThrough Back Brace Posture Corrector for Men & Women aims to provide an easy-to-use solution that allows you to work on bettering your health, confidence and quality of life.
We improved the traditional back brace with anchoring straps, breathable elastic materials and metal rods for additional spine alignment and support to allow those in need to instantly improve their posture and health for years to come.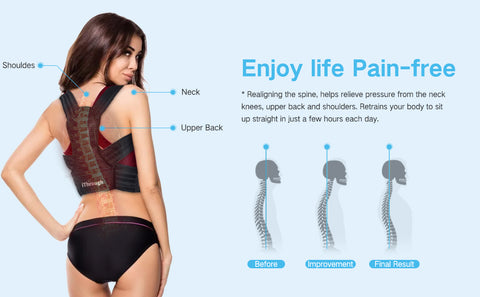 How To Wear Posture Corrector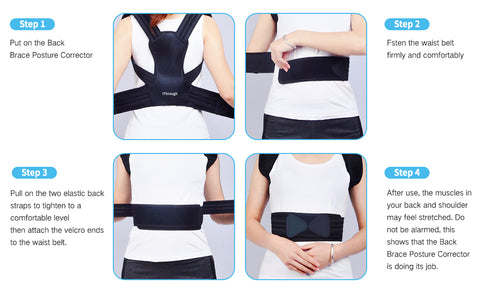 This posture corrector is ideal for people working for long hours by sitting in a bad posture
Wearing it just for 15-30 minutites daily will resultsin positive changes inyour body and making you feel active and healthy.
✔ Effectively corrects your sitting and standing posture
✔ Avoids or improves slouching and hunchback
✔ Helps relief pain in your back, neck and shoulders
✔ Gives you more confidence with a good posture
✔ Allows you to be more positive to live, work and learn
✔ Does not cause any skin injury or skin irritation
✔ Fits a lot of waist sizes, both men and women
✔ Easy to wear by oneself at anytime when needed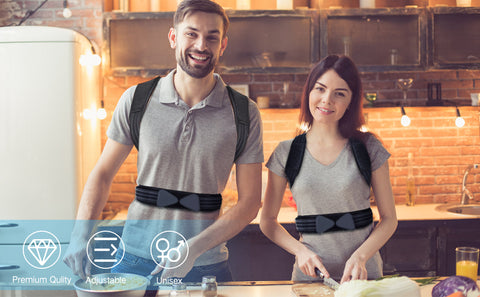 Q1: Can I wear this for long periods of time?
A1: It is not recommended to use for more than 30 minutes at the beginning. You can start wearing it for 15-20 minutes a day, then gradually extend the amount of time wearing it by 10-20 minutes and increase to 1 hour each day. DO NOT wear it while sleeping.If you feel unwell, stop using it immediately.
Q2: How do I know if it will work for me?
A2: iThrough posture corrector provide more effective support to remind you keep Straighten back,help your muscles and spine back to original alignment for posture improvement.Please stick to it for 30-60 Mins every day.you will feel differance.
Q3: Can I wear this UNDER my clothes?
A3: Although the material of the posture corrector is comfort and skin-friendly, to ensure your comfort we still do NOT recommend wearing it directly touching your skin.
Q4: Is this good to use for work?
A4: YES,we designed this posture corrector back brace with maximum comfort in mind so you can easily wear it at work, while driving, at home, working outside, or even during physical activity!