| | |
| --- | --- |
| Size | 1 Count (Pack of 1) |
| Brand | IThrough |
| Material | Neoprene |
| Color | Black |
| Closure Type | Buckle, Hook and Loop |
---
About this item
Posture Corrector for women and men: universal in 37"-49"size, quickly straightens your shoulders & back for a good posture. Stop slouching & hunching. Wearing our back straightener for some time develops muscle memory which means you'll keep and hold back straight even without the posture corrector device.

Back Posture Braces: Based on Ergonomics design,using the posture corrector not only improves your sitting/standing posture, but also realign your spine and reduce the soreness and pain on back, shoulders, neck, waist caused by poor alignment

Upper Back Brace for Men: The cushioned straps of our adjustable upper back brace are made with soft, thick foam (with breathable mesh) to provide the most comfort. The restraint straps are made with strong materials to ensure the durability.

Back Posture Corrector: This posture trainer won't be an obstacle to you during work and walking. And you can wear it under your shirt or blouse and nobody will notice it on you. No need to feel self-conscious about wearing a posture brace.

shoulder posture corrector men: Our back straightener fit men &women (teenagers &adults) with a chest circumference between 37-49''. Start wearing the posture corrector belt for 20-30 minutes a day, gradually wearing it for 1-2 hours and feel the difference

---

Specifications for this item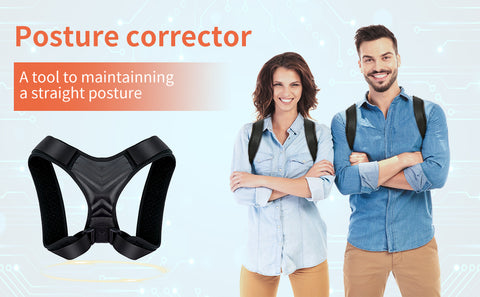 Please Note:Designed for chest circumference 37-49", Measure your chest circumference before placing your order. Avoid dissapointment and be able to start correcting your posture without delay!
Avoid wearing it during sports, eating or sleeping.

Do not try to wear this belt for too long at the beginning.

Try to adjust the belt as much as you can take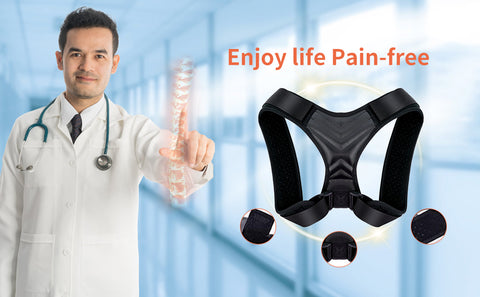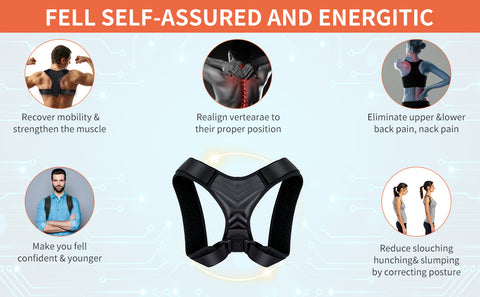 FEATURE
- Soft and breathable fabric gives you a comfortable feeling without pressure.
- The wider shoulder strap is more effective to correct poor posture.
- Adjustable shoulder strap with Velcro is more convenient to adjust the length of shoulder strap.
- Promote blood circulation; Relieve muscle stiffness; Prevent strain during exercise.
 

Easy to wear

Our posture corrector comes with adjustable hooks and loops fastener for a perfect and comfortable fit. Just adjust the braces through the buckles on the back and pull until it fits according to your body. Our back brace is designed for chest circumference ranging from 37-49", which is ideal for both men and women.

Invisible under clothes

Use this posture corrector anytime and anywhere you go as it is completely seamless under your clothes. Whether you are going to the office, leaving for the morning walk,doing exercise, yoga, cycling or running, this posture corrector will make you feel comfortable all the time.

Comfortable and Soft

Crafted with premium quality, lightweight and soft material, this posture corrector feels comfortable on your body. Breathable and ideal design keeps you cool and sweat-free for longer while giving optimal support to your body.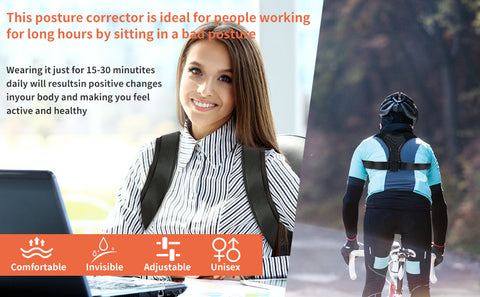 Posture Corrector for women, iThrough Back Braces For Posture Correction For Men
How to Wear the back brace posture corrector
1. Thread the restraint straps through the buckles.
2. Put on the posture corrector like put on a backpack.
3. Tighten the restraint straps by pulling.
4. Adjust the restraint straps and attach the Velcro to the cushioned straps.
5. Your shoulders and back should feel comfortably stretched
What You Will Get
1* Posture Corrector
1* User Manual
Notes
1. Measure your chest circumference prior to buying to make sure the product is suitable for you.
2. For best results, start wearing the product for 15-20 minutes per day and gradually extend the time as your body adapts.
3. Do not pull the straps too tight, or your blood circulation may be affected. Do not recommend you use the product while exercising, eating, or sleeping